£35.00
In stock & Free Delivery
✓ Medical Letter – Travel with Medication 
✓ QR Code to verify & confirm validity
✓ No appointment necessary. Simple Questionnaire 
✓ Same Day Medical Letter [9am – 9pm]
About this medical letter

Doctor's Letter for Travelling with Medication
If you are travelling abroad with multiple medications or prescriptions, many countries, airlines and international border control may request a medical letter to confirm that the medications are both prescribed and belong to you. Our Doctors can issue you a same-day Medical Letter confirming that the medications are prescribed and confirm why you are travelling with them. No appointment required.
Our Medical Certificates & Letters will also confirm when you were prescribed the medication and your underlying health conditions.
Simple: 3 mins online form. No appointment required
Speedy: Get your Letter within a few hours
Verifiable: QR Code on every Doctors Letter
UK Doctors: Registered UK Signed Doctor Letters
Fair: Full refund if we are unable to provide a Letter 
Our Doctors at ZoomDoc have revolutionised same day Medical Certificates.
How does it work?
We know it is not always that simple to get a Doctors Letter to confirm medications that you are prescribed and required to travel with, so we have simplified the process.
Following purchase of this Medical Letter, you will be guided to upload your medical evidence. This is all undertaken via a simple questionnaire followed by uploading a copy or image of your prescription.
Your evidence is then reviewed by our team of UK Doctors prior to issuing you with your Medical Letter. If our Doctors have any further questions, they may give you a quick call – it is that simple.
All of our Doctors Letters & Certificates are Digital PDF documents that can be downloaded, emailed and printed. 
What is on your Letter: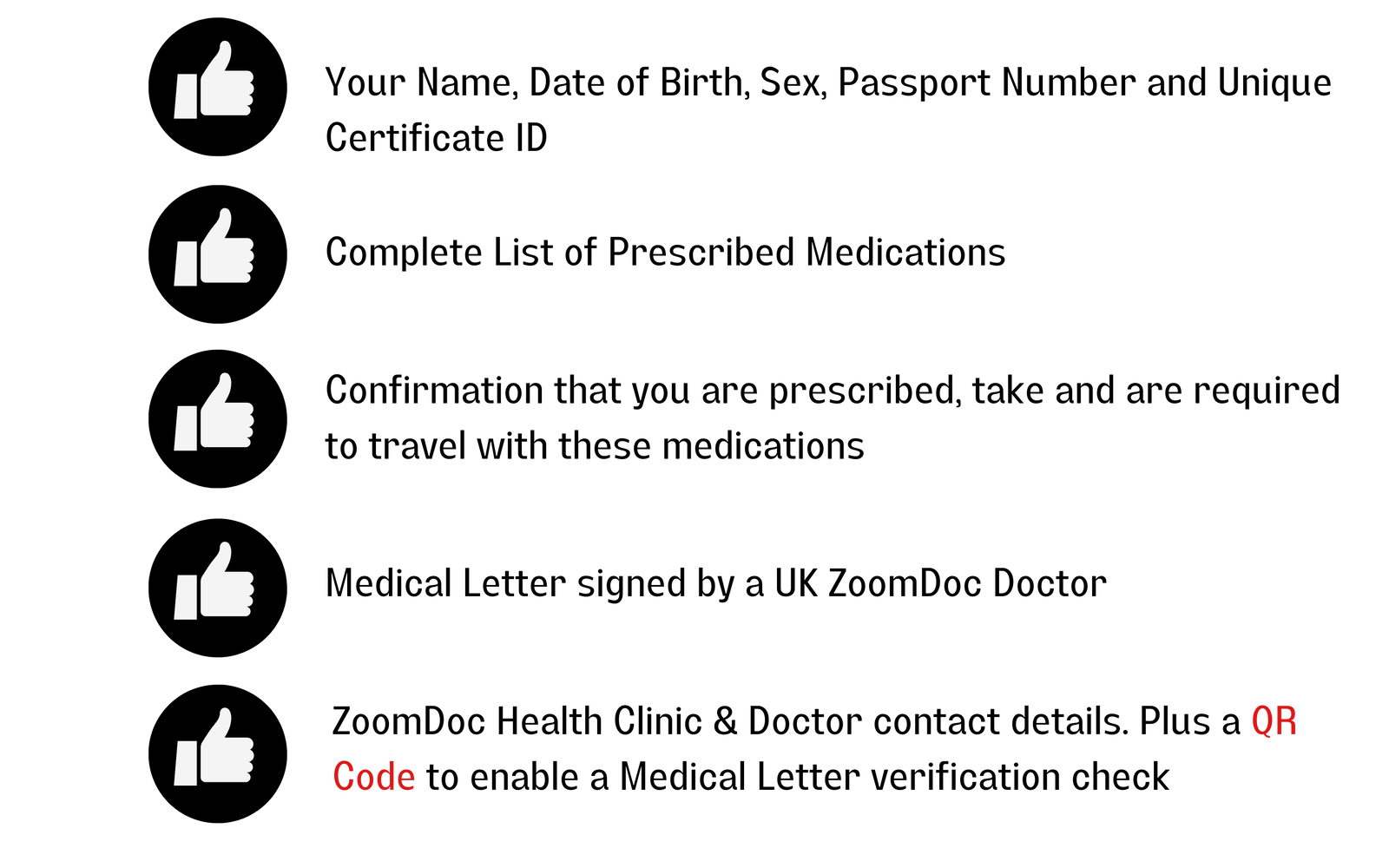 Medical Information Requested
✓ A Photo / Image of your Passport 
✓ Medications that you currently take
✓ An image of your current prescription or repeat medication slip
✓ Your current health conditions
✓ Your regular NHS GP details (if you have one)
Smart. Accessible and Verifiable QR Coded Certificate 
Symptoms
When to test
Biomarkers
Frequently Asked Questions
What will happen after I purchase this Medical Letter?

After purchase we will provide you with your unique certificate booking reference number to allow you to upload your medical evidence.

Once you have uploaded your medical evidence, our team of Doctors will review it on the same day 9am-9pm (7 days a week).

Once validated - we will send you your Medical Certificate by email and sms.

Our Doctors may call you if they have any questions.

What medical evidence do I require?

We will require you to:

✓  Upload Photo / Image of your University or College ID or Passport

✓ Complete a medical questionnaire

✓  Upload an image confirming your repeat medication slip or a copy of your current prescription. [This can be an NHS or private UK prescription slip]

QR Codes on Letters?

Our Medical Certificates and Letters all have QR codes so that can be scanned to verify the documents authenticity at any time.

When the QR code is scanned - it loads a portal to review your Certificate online and confirms all of your personal details within the certificate.

Do you provide a refund?

We only provide full refunds if we are unable to provide you with a medical letter.

After we have provided a medical certificate we are unable to process a refund.

When will I receive my Letter?

Our team will review your evidence and provide you with your certificate on the same day that evidence has been uploaded between 9am-9pm GMT [7 days a week.]

Who signs the Medical Letter?

One of our Doctors at ZoomDoc Health will sign your Medical Letter.

We are a Healthcare Service that is regulated and monitored in the UK and all of our Doctors are registered with the General Medical Council.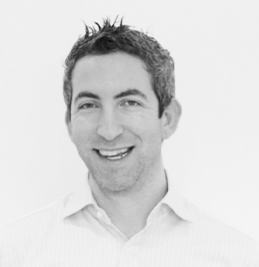 " Our Amazing 5 Star Trustpilot reviews are testament to the high quality service that our team of Doctors provide. When travelling Internationally with multiple medications, it is often wise to have a Doctors letter confirming that the medications are prescribed and belong to you. Particularly so, with any controlled drugs and strong analgesics. Our medical certificates and letters all have QR codes that make it easy to confirm their validity. "
Dr Kenny Livingstone. GP & ZoomDoc Chief Medical Officer.
Trusted by these great companies