Work sickness certificate
Availability: UK and International 
Same-day workplace medical sickness certificate, required to confirm sickness or a health condition and its impact on your work.

About this certificate
Work sickness certificate
If you have been sick, or you have a health condition that has affected your ability to work, your employer may require a medical sickness certificate as evidence.
Our doctors can provide you with a same-day medical certificate that will confirm your illness and symptoms, whether your condition is ongoing or resolved, and any sickness leave required. No appointment is needed – simply apply online.
What will I receive?
You will receive a verifiable digital PDF letter signed by a medical professional and sent directly to your mobile, containing the following details:
Your name, date of birth and workplace.
Your sickness or medical condition, when symptoms started and if they are ongoing or you are now recovered.
Up to 7 days of sickness leave at a time.
Signature and authorisation by one of our GMC-registered UK doctors.
Contact details of ZoomDoc Health with a QR code enabling a verification check.
How does it work?
Following the purchase of your workplace medical sickness certificate, you will be asked to complete a short online form. This includes uploading a 30-second to 1-minute video to explain your symptoms.
Your evidence is then reviewed by our doctors, prior to issuing you with your workplace medical sickness certificate. If our doctors have any further questions, they may give you a quick call.
Accepted worldwide, this digital PDF letter is signed by a UK-registered doctor and includes a QR code enabling your employer to verify it.
Important – our medical sickness certificates
Please note: ZoomDoc Health is a private UK doctor service – the medical certificates we provide are not the same as NHS Med3 Fit Notes, which are only available from healthcare professionals delivering NHS services.
Our simple online process: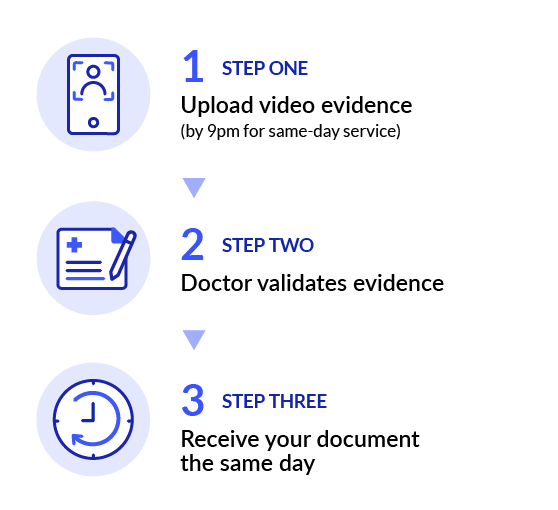 What will I need to supply?
To allow us to assess your condition and issue a medical certificate, we will require the following information:
A photo of your passport, driving license or workplace ID
Confirmation of when your sickness or condition started
Whether your sickness is ongoing, or you are now recovered
A 30-second to 1-minute video describing your symptoms
The name of your workplace
Details of your regular NHS GP (if you have one)
Symptoms
When to test
Biomarkers

Very highly recommended
I was so happy with the services provided by ZoomDoc — efficient, helpful and saved my time and NHS resources! I highly recommend.
Date of experience: October 25, 2022
Jodi, GB

Well worth a try
I received a sick note after doing a video message to the doctors, I didn't have to wait too long either. I would recommend this service to all — thanks.
Date of experience: October 21, 2022
Martin Haynes, GB

Amazing service from start to finish
Amazing! My regular GP refused to issue a certificate for my employer to cover a period of sickness I experienced whilst on leave abroad, even with evidence of a visit to a clinician and medication. ZoomDoc were on it and such a simple process with their fee only being 25 more than a private letter. Professional and prompt. Completed my consultation late in the evening and letter was emailed direct within a few hours. My local authority employer was happy to accept this. Highly recommended.
Date of experience: October 22, 2022
Anonymous, GB

Very easy to use, a quick service
Very easy to use a quick service! Would recommend 100% A+ service!
Date of experience: November 07, 2022
Public, GB
Frequently Asked Questions
What will happen after I purchase a work sickness certificate?

After purchase, we will provide you with your unique certificate booking reference number, which will allow you to upload your medical evidence.

Once uploaded, our doctors will review your evidence on the same day (between 9am and 9pm GMT, 7 days a week) – they may call you if they have any questions.

Once validated, we will send your workplace medical sickness certificate to you by email and SMS.

What medical evidence do I require?

We require you to:

✓  Upload a photo of your passport or workplace ID

✓ Complete a medical questionnaire

✓  Upload a short video (on your mobile) describing your symptoms

Why are there QR codes on medical letters and certificates?

Our medical letters and certificates have QR codes that can be scanned to verify the document's authenticity.

Once scanned, your personal online results portal is loaded, from where your medical letter can be reviewed and personal details confirmed.

Do you provide refunds?

We only provide full refunds if we are unable to provide a medical certificate.

Once our doctors have provided a medical certificate, we are unable to process a refund.

When will I receive my medical certificate?

Our team will review your evidence and provide you with your certificate on the same day that evidence is uploaded (between 9am and 9pm GMT, 7 days a week).

Who signs the the work sickness certificate?

Our UK doctors at ZoomDoc Health sign your work medical sickness certificate.

We are a UK-regulated healthcare service and all our doctors are registered with the UK General Medical Council.

How many days can I be signed off sick?

After reviewing your medical evidence, our doctors can provide up to 7 days of sickness leave with your certificate.

If you are still unwell after the initial 7-day period, you may apply for a further sickness certificate for additional leave.
Get in touch
We're happy to help
If you have any queries please check our list of frequently asked questions or get in touch with one of our experts who will be happy to help.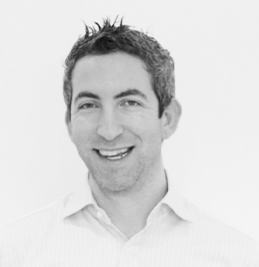 "If you are unwell and require evidence for your employer, our doctors are here to help. We have simplified the process of getting a doctor's sickness certificate with our innovative platform. Employees simply need to upload a short video explaining symptoms and complete a short medical questionnaire. Our doctors will then review the medical evidence and send over your sickness certificate on the same day. Our GPs may also give you a quick call to ensure that you are OK and receiving the right support, and to check whether you require any additional treatment. QR coded, our medical certificates can be validated and verified at any time when provided to your workplace. Quite simply, we have revolutionised the simple sick note and supported thousands of employees."
Dr Kenny Livingstone. GP & ZoomDoc Chief Medical Officer.